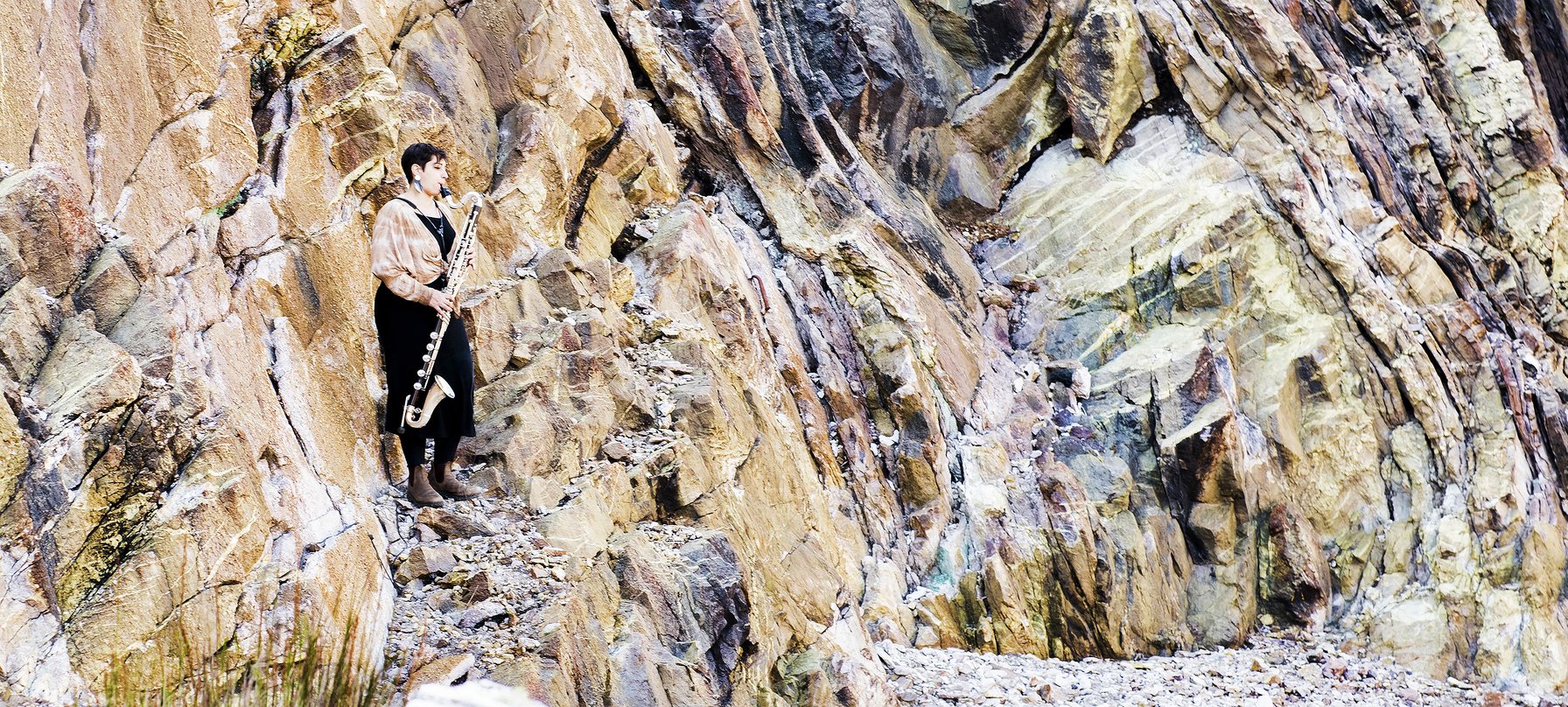 Artist in Residence Program
With the support of Arts Tasmania, The Unconformity provides opportunities for artists practising any artform to conduct a residency in Queenstown, in remote Western Tasmania, Australia.
The Unconformity Artist in Residence Program provides artists with time and support to research, build relationships and focus on their practice in the provocative West Coast environment.
Artists are provided with:
— $2500 artist fee
— $500 contribution towards materials
— $55 per diems
— Self-contained accommodation
— Contribution towards travel (e.g. airfares, transport, mileage, etc.)
For more information, please see the 2021 info sheet and FAQ here.
Applications
Applications for the 2021 residency program closed on 8 January 2021. To find out about future residency opportunities, follow The Unconformity on social media and / or sign up to our e-newsletter at the bottom of this page.
2021 Residency Artists
Lisa Sammut (ACT) – visual arts
Rebecca Starford (QLD) – writer
Tilman Robinson (VIC) – composer and sound designer
Saskia Haalebos (ACT) – multi-art form
Luke George (VIC) – performance and visual artist
Lisa Sammut is a multidisciplinary visual artist currently working on Ngunnawal/Ngambri land, in Canberra. She has exhibited widely in Australia and received a 2017 Sainsbury Sculpture Grant to undertake an intensive woodcarving course at the Geisler-Moroder Schnitz und Bildhauerschule in Austria. In 2019, Lisa received Copyright Agency and Create NSW grants to undertake professional development and research residencies in Iceland and France, including a mentorship in video and installation art with conceptual artist Laure Prouvost.
Rebecca Starford is a fiction and nonfiction writer, editor and magazine publisher currently living and working in Queensland. Her first book Bad Behaviour: A Memoir of Bullying and Boarding School was published in 2015 by Allen & Unwin and is currently in development with SBS and Matchbox Pictures for adaptation to television. In 2010, Rebecca co-founded Kill Your Darlings, a publishing company dedicated to supporting emerging Australian writers where she is now the publishing director..
Tilman Robinson is a Melbourne-based composer, producer and sound designer working primarily in the realms of experimental and electronic music. He works with acousmatics and aspects of psychoacoustics to disorient and destabilise audiences through immersive sound environments. Tilman's practice involves writing for acoustic instruments as well as electronically manipulating acoustic sound through advanced production/studio techniques. The next phase of his artistic development focuses around large scale, site-specific installation/performative works..
Saskia Haalebos is based in Kamberri/Canberra in Ngunnawal Country. She works across printmaking, performance, audio, digital and zines and her focus is on themes rather than a specific artform: time, endurance, chance, alternative forms of communication, empathy, melancholy and humour. Saskia understands her environment in non-verbal ways such as via colour, sensation, association, noise and tactility. She does not consider words her first language.
Luke George is a Naarm/Melbourne-based performance and visual artist with a background in dance, cross artform collaboration and socially-engaged practice. He was born and raised in lutruwita/Tasmania and lived in the small Hydro-town of Tarraleah for the first years of his childhood. Luke creates new choreographic and multimedia work that engages daring and, at times, unorthodox methods to explore new intimacies and connections between artist and audience.
In 2021 Lisa, Rebecca, Tilman, Saskia and Luke will spend time in western Tasmania to conduct research within their individual projects and practices with the support of The Unconformity and members of the West Coast community.

Previous Residency Artists
2020-21
Rhiannon Newton (NSW) – dancer and choreographer
Polly Stanton (VIC) – moving image and sound artist
Matt Warren (TAS) – electronic media artist
Eleanor Grace Peres (TAS/Russia) – architecture designer
2019
Pete Mattila (TAS) – contemporary blacksmith
Liam Pieper (NSW) – writer
Alicia King (VIC) – interdisciplinary artist
Aviva Endean (VIC) – musician
Justy Phillips and Margaret Woodward (TAS) – visual artists and writers collaborating as A Published Event
2018
Natalie Abbott (NSW) – dancer
Jill Orr (VIC) – performer
Andrew Callaghan (VIC) – composer
Jordan Baseman (UK) – video artist
Mountain Heights School Artist in Residence
Selena de Carvalho (TAS) – multi-artform.
Residency Supporters
The Unconformity Artist in Residence Program is supported through Arts Tasmania by the Minister for the Arts.