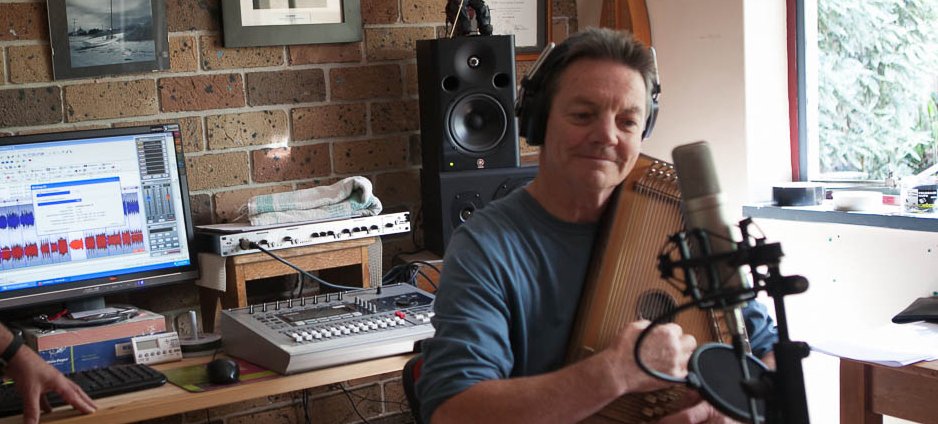 Tony Newport
Tony was born in Zeehan and deemed unmusical from early age, debuting for the school choir mid puberty and was promptly rejected with the jerk of a thumb. He mucked around on an acoustic guitar guarding his obscurity and his wife's sanity in the spare room. In 1986 Tony saw Billy Connolly at the Princess Theatre in Launceston close his set with a few songs on an Autoharp. Purchasing one, he did not even know how to put the finger picks on correctly. He persevered but the instrument fell into disrepair for the next 25 years.
Tony purchased a new harp in 2010 and began to record his efforts. It was a great teaching tool. Singing with gusto and feeling stoked was quickly tempered by the unflattering truth of playback. But, learning from his mistakes, his singing improved (if only that choirmaster had not been so brutal!). His first public performance was at Bradshaw's sawmill in 2012 at the Queenstown Heritage and Arts Festival. In 2014 he went to an Autoharp festival in Pennsylvania, purchased a state of the art Autoharp, and in 2015 with the great assistance of Vince Brophy he recorded a CD which was dedicated to the people and spirit of the West Coast - drawing on his formative experiences growing up in Rosebery, playing footy and working underground.
Tony describes it as an absolute privilege to be able to sing about the west coast to west coasters in particular – his only regret is that his mother and my grandmother – west coasters to their gumboots – are not around to share it with him.